Mikaela Shiffrin on Mental Health, Performance Pressure, and Prioritizing Herself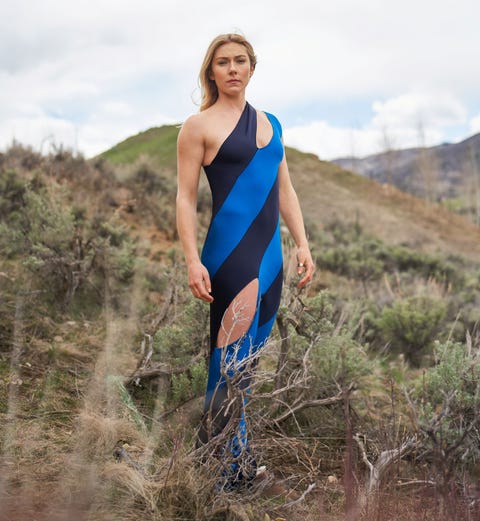 Mikaela Shiffrin is used to steering through twists and turns. But nothing could have prepared the champion Alpine skier for the last two years: the sudden death of her father, a debilitating back injury, and a positive COVID-19 test that forced her to miss some World Cup races. Then, in one of the most shocking sequences in the sport's history, Shiffrin was disqualified from not one, not two, but three races at the 2022 Winter Olympic Games. After stumbling through the slalom, her signature event, she veered off to the side of the course, took her skis off, and bowed her head as cameras zoomed in.
"Everybody experiences the hard days when it's difficult to keep a positive attitude, and you just kind of need to sit down and cry," Shiffrin says. "Except, for me, it all became a very public thing."
At that moment, on top of an Olympic mountain, Shiffrin bottomed out. In the past, she might have concealed her burnout with platitudes about being mentally tough or pushing through the pain. This time, Shiffrin knew that in order to move forward, she needed to look back. "I'm a different person than I was," she says, "and I didn't want to hide what I'm feeling anymore."
By sharing honestly, Shiffrin joins the ranks of major female athletes in recent history who've shined a light on once-taboo subjects like mental health, trauma, and performance pressure. "It's scary," she says, "because it shows vulnerability. But there's no reason to feel shame anymore."
Two months after the Games, Shiffrin invited me to her mountain chalet in Edwards, Colorado, a burgeoning ski town 14 miles west of Vail. Her home is a palace fit for a snow mogul, with 100-year-old wooden ceiling beams imported from Austria (site of her first World Cup podium, nearly 10 years ago), an Elsa-worthy crystal icicle chandelier, and a quartzite kitchen island that glistens like a glacier in the sunlight.
"Pretty cool, huh?" she says with a grin.
Shiffrin is still surprised by her success. You can see it in the look of shock on her face every time she zips across the finish line seconds (light-years, in the world of ski racing) ahead of everyone else. But this house is not afraid to brag. On a tour, I count five jam-packed trophy cases. "It's obviously a lot," Shiffrin says sheepishly. It's more than a lot: At 27, Shiffrin is already one of the most decorated skiers of all time. And in spite of some setbacks, she shows no signs of slowing down anytime soon.
Her chairlift to the top started 25 years ago when her parents put her on plastic skis from Safeway in the driveway as a toddler. Her father, Jeff, skied at Dartmouth, and her mother, Eileen, is a former high school racer. Skiing was more than a hobby; it was a part of their love story. One of their first dates was at Killington Mountain in Vermont, and they moved to Vail, a winter haven with world-class ski instructors, to raise Shiffrin and her older brother, Taylor. Shiffrin quickly advanced from blacktop to black diamonds—where, before long, she was whizzing past her parents. At 13, she enrolled at legendary Vermont-based ski-racing boarding school Burke Mountain Academy, which has produced 36 Olympians. Even among the nation's best future ski talent, Eileen says her daughter was "way ahead of the curve," running drills while her classmates skied for fun. "She wasn't one of those athletes who needed to be pushed; she just ran with it," Eileen says, "and people just couldn't catch up with her."
Before Shiffrin was old enough to get a driver's license, she had debuted on the World Cup circuit, reaching her first podium eight races later. Her junior and senior years of high school were spent competing overseas. Eileen left a career in nursing to travel with her daughter nine months out of the year, while Jeff helmed the business side of "Team Shiffrin" from Vail, where he worked as an anesthesiologist. "Some things can't be fixed from afar, yet somehow he managed to anyway," Shiffrin says, recalling how he would answer her calls at any hour to give advice. "He was our rock, our safety net." When her dad did come to races, he joined his wife at the finish line, camera in hand.
After qualifying for the 2014 Sochi Olympic Games just shy of her 19th birthday, Shiffrin became the youngest women's slalom champion in Olympic history, snowballing into a Sports Illustrated cover, a collaboration with Barilla on a cookbook titled "Winning Recipes," and an Adidas sponsorship. As Shiffrin's celebrity soared, so, too, did the expectation to keep winning. Around 2016, she felt the first hints of what would become an avalanche of performance anxiety. "No matter how much success I've had in my career, it was like a constant battle of trying to prove my worth," she says.
With each passing season, the pressure piled on, until eventually it started flooding out before races. "I would be nervous, and then I'd get more and more and more nervous until I had to puke," she says. "I was essentially having panic attacks." Confiding in a sports psychologist helped, but "on the days when I feel like I'm not…living up to expectations, whether it's outside expectations or my own…it's kind of like, Why am I doing this?" Shiffrin says. "Because even though I'm obviously good, I didn't feel like I was very good, and that really twists and messes with your mind." After picking up her second and third Olympic medals at the 2018 PyeongChang Games, she felt "a wave of exhaustion" and "just kind of depleted."
Like she was "going through a really bad breakup," Shiffrin distracted herself from increasing self-doubt with plans for the house in Edwards, which would double as the family home. Eight months after she and her parents moved in, Shiffrin got a frantic call from her brother while she was away training in Italy. Her father had fallen doing household chores alone at the house and sustained a severe head injury. She made it back from Italy in time to say goodbye, before Jeff died at age 65 on February 2, 2020. "The fact that he had an accident, the fact that nobody was home to find and then help him, and get him the care he needed sooner, so that he would actually have a chance of staying alive…." Shiffrin takes a deep breath to steady her shaking voice before continuing. "There's a bunch of things I'm still angry about."
She couldn't sleep. She couldn't eat. Most days, she didn't even want to ski. "When your priorities get set so much straighter from an accident or a tragedy like that, you start to wonder, 'Why was racing ever important to me to begin with?'" she says.
Six weeks after her dad died, the world shut down due to COVID, and Shiffrin found herself sequestered on flat ground. "Like, how am I supposed to actually focus on ski racing when this all is going on?" she says. The rest of the World Cup tour that year was canceled, and Shiffrin stayed off the slopes for three months—training almost exclusively in her home gym. "That brought its own wave of sadness and a hopeless feeling," she says.
It wasn't just loss or lockdown; the time off led Shiffrin to realize how much she had allowed herself to be defined by her sport. "It became hard for me to separate who I am as a person, or even my self-worth, from my races and my performances," she says.
At the same time, Shiffrin began investing in her life off the slopes, dating a shaggy-haired Norwegian Alpine skier named Aleksander Aamodt Kilde. When we meet in person at Shiffrin's house, he tells me that he has known Shiffrin for eight years, but they only started dating after Jeff died. Kilde, whose mom survived a three-year battle with breast cancer, strikes me as totally devoted to Shiffrin and often shares encouraging words like "Just keep on fighting" on FaceTime when she feels down. "I will never 100 percent understand what Mikaela is going through, but I can at least know 100 percent what I can do for her," he says. "I can be there as a boyfriend and a man in her life that she can trust."
In the lead up to the 2022 Winter Olympics, Shiffrin suffered a severe back strain that "got to the level where I just couldn't move, because it hurt that bad," she says. Then she tested positive for COVID-19, and was forced to train alone for 10 days in a hotel room, doing pull-ups on her bed frame while coughing and fighting a sore throat. "I was hoping that maybe I could just come back and it'd be fine," she says. "But at that point, I was really low."
Even picking up a record 47th World Cup slalom victory less than a month before the Games left her feeling "more defeated than triumphant," she says. "The most stressful and tiring part of the season was still to come, and I didn't have any energy left to give." That didn't mean she wouldn't give it her all: Shiffrin entered five individual ski disciplines, including two speed events. If she had medaled in just two of the five events, it would have made her the most decorated American female alpinist in Olympic history. "We didn't predict that she wasn't in the right emotional space," her mom says. "She didn't talk about it, which is kind of typical of Mikaela. She sort of keeps things inside…. I think, for her, it shows a sign of weakness that she doesn't like to show."
Basketball players can brick the odd foul shot; golfers can miss a swing here or there. In ski racing, where margins of victory are measured in hundredths of a second, there is no room for error. At the Olympics, Shiffrin made several. During the women's giant slalom, she slipped and didn't finish. In the slalom, her signature event, she skied out and drifted to the side of the course, where, for more than 20 minutes, the cameras focused on her as the competition whizzed by—vying for a spot on the podium in a race many had expected her to win—while announcers deemed her elimination a "disappointment." (The controversial coverage of Shiffrin was later defended by NBC Olympics executive producer Molly Solomon, who said, "We're watching real people with real emotions in real time, and we did everything we were supposed to do.")
Shiffrin crashed for a third time during the women's alpine combined, and placed ninth in the women's super-G and 18th in the downhill. "There's a lot of talk about the pressures athletes feel before a competition, and that ends up being why it doesn't go well," Shiffrin says. "For me, it didn't go well first, and then I felt the pressure, disappointment, shame, and embarrassment of knowing I couldn't go back and change it."
After years of repressing her feelings, this time Shiffrin decided to open up. "You want to run away and you want to hide from those difficult moments, but they're there no matter what," she says. "I knew I needed to face this, and I could either choose to do it in shame or I could choose to stand up straight and, I don't know, bare my soul."
Shiffrin apologized to fans for her performance in the giant slalom, clapped back at online trolls accusing her of choking, and later penned an essay about the deep sea of grief she'd been drowning in since losing her dad. "My best moment at the Olympics ended up being me just trying to communicate what was actually going through my head and hoping that somebody out there might be reading it and thinking, 'That's how I feel today,'" she says. "Like, I felt completely hopeless and that's something that a lot of people deal with. So why not try to relate to that on some level?"
For most of sports history, professional athletes were expected to be as peerless in mind as they were in body. In making herself vulnerable, Shiffrin follows greats like Naomi Osaka and Simone Biles, who have recently publicly prioritized mental wellbeing. Since Osaka withdrew from the French Open in 2021 to protect her mental health, she has become a major advocate, working with wellness platform Modern Health to improve access to evidence-based mental health care. Osaka tells me that, taken together, these decisions to speak up and opt out are helping shepherd in a new era—one where it's okay to not be okay. "More than ever, athletes are speaking up without shame or stigma, and rather than being looked at as weak, they are being regarded as human," Osaka says. "This needs to become the standard rather than the exception." During a recent public appearance, Biles, the greatest gymnast of all time, echoed Osaka, saying the word "champion" is being redefined as someone who is "vulnerable and show[s] inner strength."
As many as 35 percent of all professional athletes experience problems with their mental health, according to recent sports medicine data. Female athletes in particular experience depression, eating disorders, and anxiety, according to Dr. Caroline Silby, a sports psychology consultant for Team USA. There is ongoing research as to why, but it has to do with a "perfect storm of factors that compound and feed on each other, creating risks for these high achieving individuals, who can overcome such great physical and mental odds during their peak and hit such tragic lows," says Silby, noting that historically sports have been rife with sexism and perfectionism, which can exacerbates struggles. "But this is also about us," she says of the coaches and fans who increasingly demand excellence—even when it comes at great cost.
That kind of pressure can push athletes to their limits. For Stanford University soccer star Katie Meyer, it pushed her beyond the brink. After she died by suicide in March, her mother, Gina, choked back tears in an interview with NBC News talking about how Katie struggled with "anxiety and the stress to be perfect, to be the best, to be number one."
If anyone understands, it's former Olympic figure skater Gracie Gold, whose own battle with depression and an eating disorder led her to withdraw from the sport in 2017. What Gold has learned through her recovery is that physical and mental abilities don't necessarily go hand in hand. "I feel like sometimes the world still doesn't understand mental health," Gold says. "I might be a superhuman in my sport, but the chemicals in my brain are imbalanced."
Progress is ongoing, and leagues in the U.S. do seem to be trending in the right direction by introducing mental health initiatives. The WNBA, for example, has ramped up its programming after a union-led call to action with mental health "playbooks" distributed to current and former players that include situational advice based on real stories.
On a global scale, the International Olympic Committee convened a group of experts to establish guidelines for countries with differing levels of acceptance when it comes to mental health. "Certainly, stigma still exists, and we continue to see that in choice of language," says the group's co-chair Dr. Claudia Reardon. "Some people are even uncomfortable with the phrase 'mental health', and instead prefer the less stigmatized 'mental well-being.'" Based on research published by Reardon and the work of other independent experts, Team USA made four mental health professionals available (a psychologist, two psychiatrists, and a social worker) to athletes for the first time at the 2021 Tokyo Summer Games. By the time Shiffrin competed in the Winter Games the following year, Olympic athletes from every competing countries had access to on-site mental healthcare professionals at the Games, as well as a 24-hour crisis hotline and a wellness app.
While reassuring for future generations of athletes, this uptick in resources is complicated for those whose careers have come to an end. Legendary skier Lindsey Vonn, who has openly talked about her decades-long battle with depression, wonders if things would have been different had that level of support been available. "It's honestly hard for me to imagine growing up in a world where mental health is as openly talked about like it is now, because it was so ingrained in me to be tough," Vonn says. "There was never any emphasis put on learning coping mechanisms or skills to be able to manage the pressures of being an athlete, you're just focused on success." Ultimately though, Vonn says the most important thing is to "make the world a better place for those who are coming behind us."
At the depth of her struggles, Shiffrin considered retiring from ski racing altogether and going to medical school, like her dad, or becoming a marine biologist. But speaking out has helped her "sort through her brokenhearted soul and emotionally devastated brain," her mom Eileen says. Just as Shiffrin was ready to write herself off, she came back one month after the Beijing Olympics and made a World Cup podium in Lenzerheide, Switzerland, with fans like tennis great Roger Federer, who owns a house nearby, cheering her on. After placing second, she told reporters: "I finally just enjoyed skiing for a day."
Shiffrin would go on to win the overall World Cup, posing for photos with the 20-pound crystal globe that goes to all champs. It was her fourth world title, tying her with the previous American record holder, Lindsey Vonn. Another trophy for her already-crowded case back in Edwards.
She plans to return next ski season armed with new insight and that signature swagger on the slopes that never wavered, not even at her nadir. There are still more records to break and World Cups to win. Until then, Shiffrin is making time for herself: getting massages, checking books off her must-read list, watching Yellowstone with her mom, and making up riffs on the guitar, which she took up during quarantine. She has also started seeing a grief counselor, which helps her cope with her father's death.
Back at home in Colorado, Shiffrin shows me a patina-ed thumb ring on her left hand. It belonged to her dad, and has an engraving of an open-winged eagle, which, she explains, is a symbol of power and resilience in many cultures. "Sometimes,"she says, "the simple act of trying is all you can do.
This article appears in the August 2022 issue of ELLE.